Sublistar Star IV 30R Roll To Roll UV DTF Printer
Most advanced and latest printing technology Model: UV-Star IV 30R Parameter Print Head: EPSON-F1080Max Print Size: 300mmMax Speed: 5m2/hInk Type: ECO-UV Curing Ink Feature UV-Star IV is a new technology of the digital revolution. The biggest advantage of this new technology is that after printing, it can be directly attached to...
customers are viewing this product
Product details
Most advanced and latest printing technology

Model: UV-Star IV 30R
Print Head: EPSON-F1080
Max Print Size: 300mm
Max Speed: 5m2/h
Ink Type: ECO-UV Curing Ink
UV-Star IV is a new technology of the digital revolution. The biggest advantage of this new technology is that after printing, it can be directly attached to the substrate to be transferred without other processing.
UV DTF printing is especially suitable for transferring UV ink to special shapes and materials that are not suitable for direct printing with UV ink.
UV Printer Parameter
Brand
Sublistar
Item Model
UV STAR IV-30R
Print Nozzle
EPSON-F1080
Print Accuracy/Speed

6pass:5m

2

/h 8pass:3m

2

/h 12pass:1.5m

2

/h

Ink
UV INK
Maximum Width
300mm
Print Media
UV DTF
Print Interface
RJ45 cable interface
RIP Software
Hemo Driver/Maintop6.1 /Photoprint/Print Factory
Voltage
AC110V+/- 10%. AC220V+/-10%. 50/60+/HZ
Operating Environments
Temperature:20°C-35°C Humidity:35%RH-65%RH
Dimensions Of Printer(LxWxH)
984 x 1053 x 525mm
Dimensions Of Packing(LxWxH)
1100 x 1153 x625mm
Net Weight
90KG
Gross Weight
130KG
Epson F1080(XP600) Print Head
Model
XP600/F1080
UV STAR IV-30R using Epson F1080 print heads. It is an economical printhead, designed as a water-based head. The price is very cheap, the stability is moderate and it is widely accepted by the market. It is mainly used for small environmentally friendly solvent ink printers or roller UV printers.
Ink Types
Eco-solvent ink, UV
Size(width x depth x height)(mm)
84.9×57.2×42.6
Weight(g)
60
Nozzle Numbers
1080
Length Between Nozzles(inch)
180
Nozzle Row
6row
Max color/head
6colors(180dpi/color)
Resolution
180npi/row 360dpi/2row
Effective Printing Width(mm)
25.4
Jet Frequency(kHz)
46(single dot),11.52(multi dot)
Ink Drops(pl)
4.5-9-20-40
Ink Viscosity(mPa.s)
3~5
New Features of UV-STAR IV
Talk about some features of Roll UV Printer, hope it will play a role in future choices.
Low Investment And High Return
Perfect 3D Embossed Printing Effects
The Sublistar A3 desktop UV DTF printer is more suitable for customization. If you want to make high profits in the digital printing industry without making large deposits, you can do some customized business with Sublistar A3 UV DTF printers.
A cylindrical fixture is installed on the platform, which can realize the printing of cylindrical products such as thermos cups and mugs and supports printing with a diameter of 30–120 mm to meet the needs of personalized customization.
Combine Printing And Laminating All in One 
4 Colors + White & Varnish Print Simultaneously
The new A3 UV STAR IV 30R roll-to-roll printer combines printing and laminating all in one. And it helps eliminate the need for a laminator to work twice as one machine can print A film and laminate B film automatically at the same time.
The varnish printing area is as smooth as a mirror without bumps and bubbles. High-quality varnish output has stronger adhesion and abrasion resistance. Therefore, the printed patterns will not fade with eternal brightness.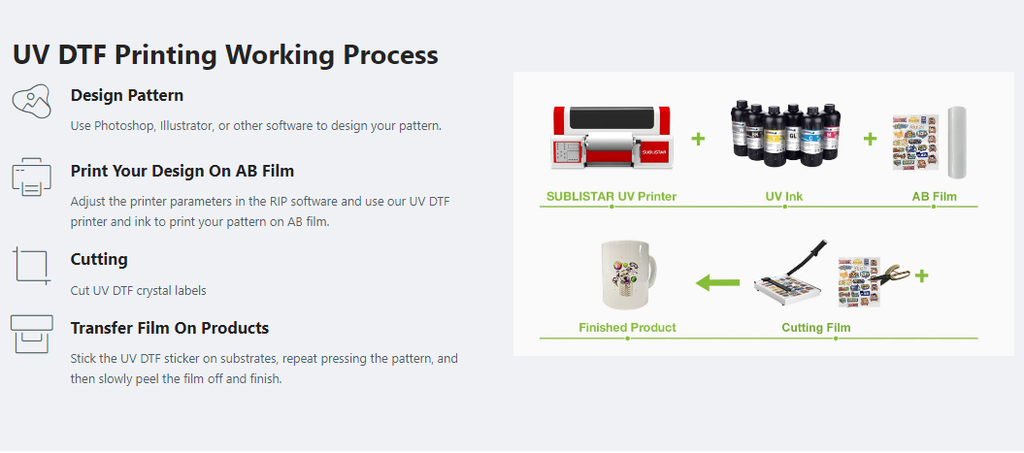 Details Of SUBLISTAR Roll UV DTF Printer
Ink Supply System
Mute Motor And Rail
Waste Ink Alarm
White Ink Stirrer
With a large ink cartridge, the Sublistar A3 UV DTF printer can print patterns with bright colors. In the printing process, the white and colorful inks as well as varnish output simultaneously, making the production more convenient.
High-precision and mute rails make the printing smooth with low noise and a better operating environment.
When the waste ink bottle is full, the monitoring device will make an alarm sound: a device for storing waste ink. When the waste ink is full, there will be an audible alarm prompt.
The component that derives the circulation of white ink. Please make sure that the stirrer is still running when the printer is turned off. It effectively avoids white ink settling and makes the printer start and works faster next time.
Applications Of Roll UV Printer
Different customers will use UV printers to print different products. Subristar roll UV printer is mainly used for toys, Acrylic,Wood,Plastic,Glass,Phone Cases,Keychain,Ceramic Tiles,Metal,Packaging Bags,Luggage,Fountain Pen,Crystal Trophy, etc. What industries are Roll UV printers used in? For example, toy industry, advertising and signage market, home decoration and furniture market, personalized gift market, etc.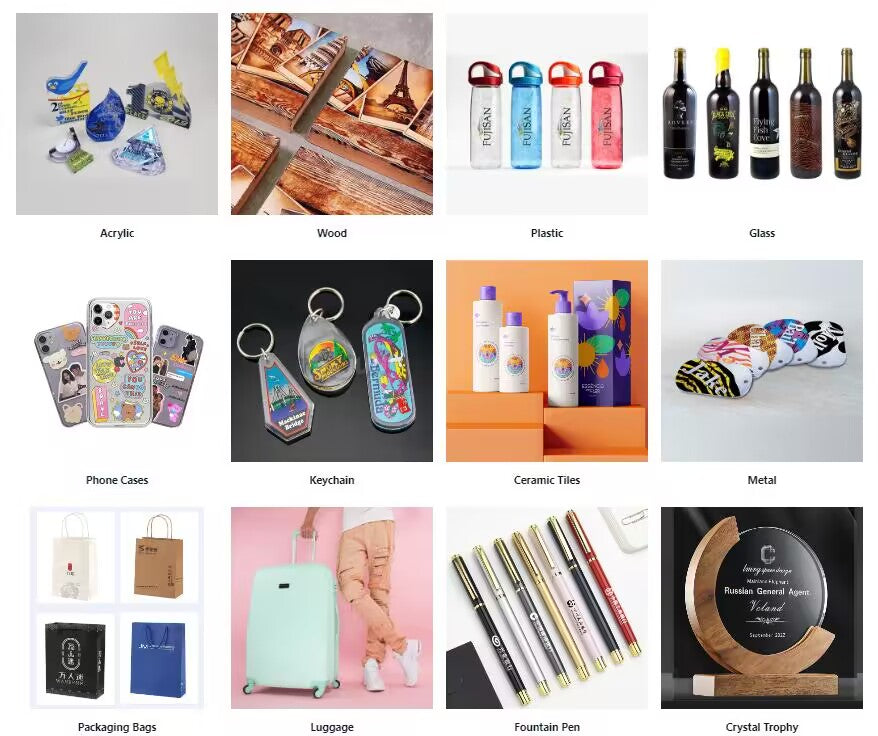 All Services In One Place

Onboarding Service

We offer a dedicated team of professionals to share video/screen share to ensure you get set up and print right away.
On/offline Training Support

We provide important after-sales support and training, free online training, and on-site coaching to customers worldwide. There are several video programs available as training resources.
"Heads and All" Warranty

We provide a 6-month free warranty for print heads, and all printers are backed by a standard 24 months. You can also extend the warranty for peace of mind.